Just before the end of 2008 we had the news that St Cuby's has been awarded a grant from English Heritage and the Heritage Lottery Fund to restore a considerable part of the church roof which has been giving so many problems over recent years. This is a marvellous encouragement to the Friends of St Cuby who have raised £14,000 towards the repairs in the last year.
With the aid of more fund raising and additional grants all the external works, the roof and associated groundworks to handle the surface water, exterior painting etc. are now completed and a huge thank you is due to all those that assisted with the fund raising and to the various grant making bodies who were good enough to support us.
February 2010 - new heating system installed and working - St.Cuby's almost tropical!

April 2010 - scaffolding due to be erected this month and the north aisle will be screened off to allow roof works to proceed in safety.
June 2010 - work proceeds apace with fine weather enabling the schedule to be maintained or bettered.
July 2010 - the repairs to the roof have been completed ahead of time and the scaffolding has been removed. Now the groundworks can commence which will deal with the surface water collected from the restored roof.
August 2010 - all roof and groundworks now complete together with painting of external doors. All that remains is some internal plastering but this must wait until the walls have fully dried out, perhaps - 2/3 years.
October 2010 - With guidance from the Diocesan Advisory Committee, plans are under consideration for certain internal improvements including the provision of a kitchen and a cloakroom, re-ordering of the baptistry and the Colshull Chapel, creation of a meeting room and replacement of the ageing organ. More news on these developments as events arise.
30 October 2011 - Our first Craft Fair in church from 10.30 am until 4pm - writing now - just a few hours after the fair closed it has been a huge success - all the stall holders were delighted and will come again if we have another and the church funds have increased by around £1200!! Great to see the church packed with folk and used as it should be. Numerous photos in the gallery section and a short video. Well done to all concerned!!
6 November 2011 - First Tuesday evening practice session for bell ringers - well attended and hopefully the first of many. Perhaps we will soon have the nucleus of a regular band of ringers.
January 2012 - A new, digital organ has been acquired to replace the ageing pipe organ which is now beyond affordable repair (£25,000 at the last count some years ago). The new instrument is manufactured by Content of Holland and has been supplied by Classic Organs of Cornwall.
September 2012 - An Organ Extravaganza was held onSeptember the 15th hosted by Jonathan Delbridge. Jonathan played a wide range of popular pieces from the organ repetoire with great panache and the evening was much enjoyed by a good crowd. Light refreshments and a wine bar were appreciated during the interval. See gallery for pictures and sound sample.
Easter 2014
Sadly Easter Sunday was Fr. Tony and Ruth's last Sunday with us as they have retired fully to a new home in Bodmin. About 100 friends and visitors were at the Eucharist on Easter Day to celebrate the feast and to wish Fr Tony and Ruth well in their new lives. A fortnight earlier a splendid buffet lunch was held at the Old Plough when about thirty five of us joined Fr Tony and Ruth for a farewell lunch party.
September 2014
Following a long illness we are sad to report the death on September 14th of John Potter. John was a licensed lay reader and faithful servant of St. Cuby's for many years. He was a quiet, gentle man who will be sadly missed. His funeral was on Monday 29 September at the church followed by refreshments at the Jubilee Hall. A service of cremation was held at Glynn Valley on the same day. His ashes are interred adjacent to his great chum Monica Garbett close to the south wall of the church.
November 2014
On the 5th of November Cornish Orchards kindly hosted and sponsored a superb firework display and bonfire at their Duloe farm. The event attracted huge crowds who enjoyed some excellent food, ales and ciders kindly provided by Fullers. Mr & Mrs Atkinsons support for the evening was greatly appreciated and the evening raised about £3000 for church funds.
A couple of pictures can be seen in the gallery section.
February/March 2015
In February we were delighted to learn that Fr. Peter Bellenes is to be licensed as Associate Priest with responsibility for the parishes of Duloe and Herodsfoot.
Fr. Peter's licensing is arranged for Sunday March 15th at 6pm
and will be conducted by the Bishop of St Germans with installation by the Archdeacon of Bodmin. We extend the warmest of welcomes to Fr. Peter and his wife Alyson and trust that they may enjoy many happy and fruitful years with us.
The evening of March the 15th proved to be fine and dry and to the sound of a splendid peal of bells by the St. Cuby ringers a congregation of about 100 was present to witness the licensing of Fr. Peter Bellenes (Associate Priest) and the Rev. Phillip Sharp (Priest in Charge) in their roles at St.Cuby's and All Saints. The Bishop of St. Germans and the Archdeacon of Bodmin led the ceremonies and the evening was a most joyful occasion enhanced by some lusty singing. Afterwards a splendid reception was held in the school hall.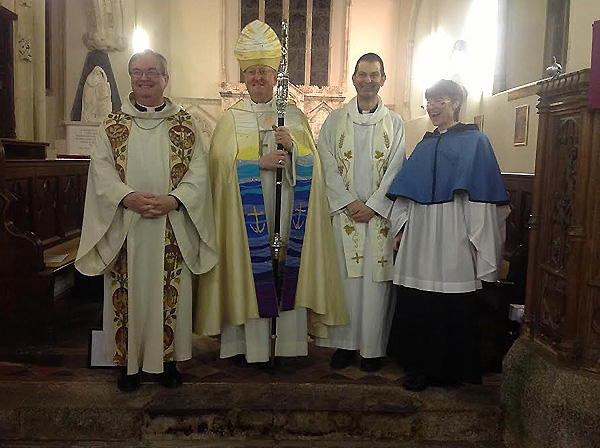 Fr Peter, Bishop Chris of St. Germans, The Rev'd Phillip Sharp and the Archdeacon of Bodmin the Rev. Audrey Elkington
November 2015
Great excitement today, November 4th as we launched our smart new loo. may God bless her and all...........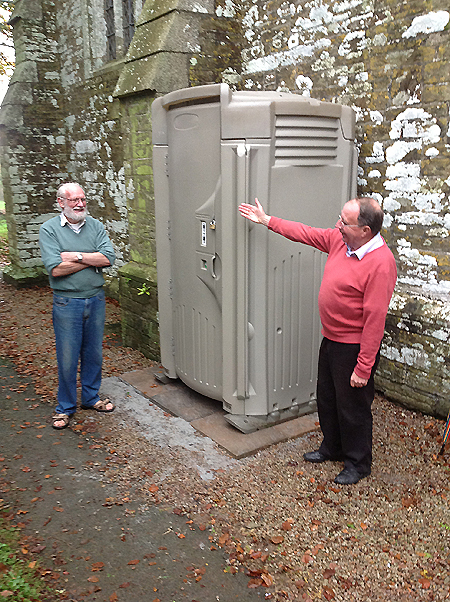 8 November - Rememberance Sunday and St. Cuby's Day
A large congregation welcomed the Bishop of St. German's to St. Cuby's who celebrated and preached a fine sermon of the theme of rememberance. The children of our Primary School did a grand job in decoraing the church for the joint themes of the day as this picture indicates.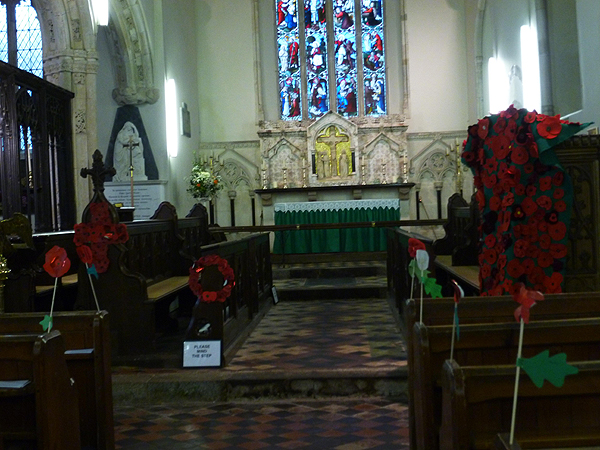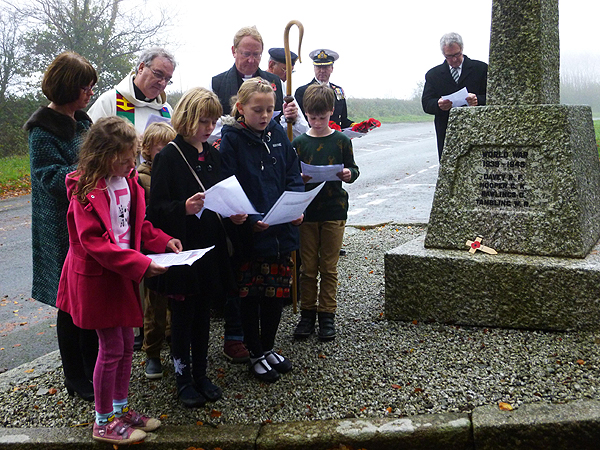 The Bishop of St. Germans with wardens Penny & Anne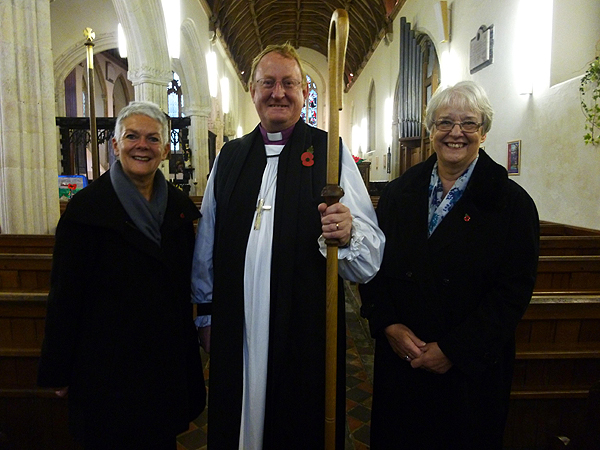 CHRISTMAS TREE FESTIVAL December 18/19 2015
St Cuby's looked magnificent for our first Christmas Tree Festival - a short video is available here to provide a flavour of the occasion.
CANDLEMASS FEBRUARY 2ND 2016
Duloe School, many parents and members of the congregation joined together in St. Cuby's for a lively celebration of Candlemas with a Christingle service which brought a fitting close to the Christmas season.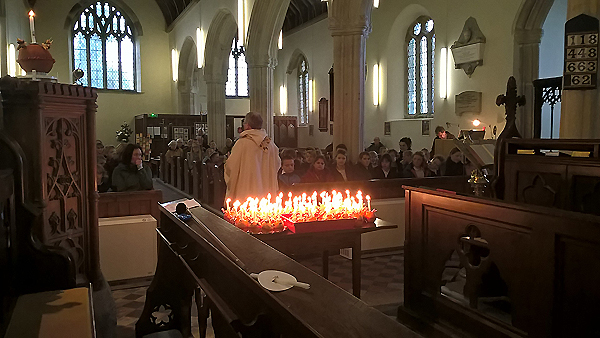 The evening of May 13th was the occasion of a super concert given by Jonathan Delbridge (organ) ably supported by the Liskeard Silver Band. A good crowd enjoyed a varied programme of the light and classical music and an excellent spread of refreshments provided during the interval was much enjoyed by all. This was a most memorable evening and with Jonathan's support it may well be repeated in a similar manner at some future time.
27 SEPTEMBER 2016
The Bishop of St Germans visited us on the occasion of the confirmation of four children following classes held by Fr Peter. A splendid service was followed by a reception at the school hall.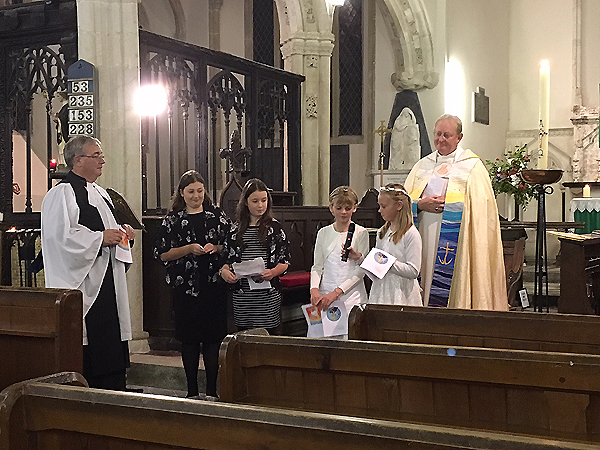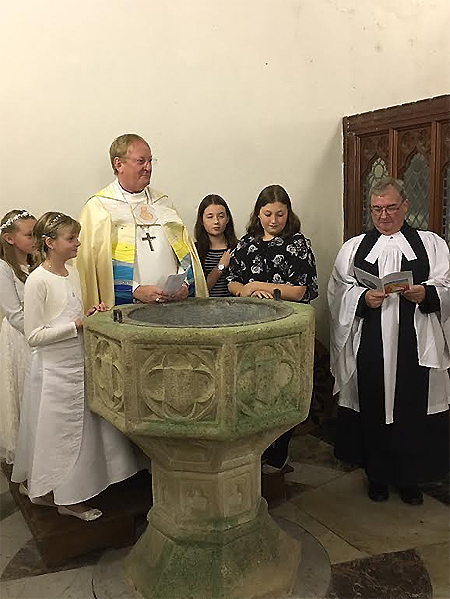 The new benefice of St. Cuby Duloe and All Saints Herodsfoot has been affirmed with Fr. Peter Bellenes as its first Rector.